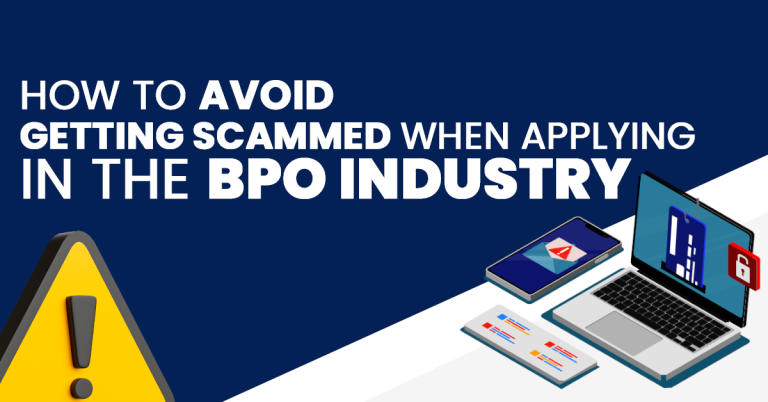 When applying in the BPO (Business Process Outsourcing) industry, it's important to be cautious and take steps to avoid getting scammed. Here are some tips to help you navigate the application process and protect yourself:
1. Be Wary of Unusual Job Offers
Be cautious of job offers that seem too good to be true or promise unusually high salaries for minimal work. Scammers often use attractive offers to lure unsuspecting applicants. Research industry standards to have a realistic expectation of salary ranges.
2. Beware of Upfront Payment Requests
Legitimate BPO companies generally do not require applicants to pay any fees or make upfront payments during the application process. Be cautious if you're asked to pay for training materials, processing fees, or any other expenses before being hired.
3. Interview Process
Legitimate BPO companies will typically conduct thorough interviews to assess your skills and qualifications. Be wary if the interview process is rushed, lacks professionalism, or seems too informal.
4. Contact the Company Directly
If you're uncertain about the legitimacy of a job offer or have any doubts, contact the company directly using their official contact information. Ask specific questions about the job posting, the hiring process, and any concerns you may have. Legitimate companies will be responsive and provide clear answers.
What's the Difference Between Agency and Recruitment Firm?
Due to the large pool of job candidates, Agencies and Recruitment firms can usually sort through and identify the most qualified people for the role. This can help reduce the number of applications for consideration and keep the interviewing and hiring process organized. Typically, candidate pools consist of professionals who already underwent interviews and communicated their value to the firm.
Finds high-quality and qualified candidates to fill open jobs.

Specialists in finding job candidates in all workplace areas. This makes these firms knowledgeable about the job market, including information about compensation and benefits provided by the different roles and companies.
You will be hired under them.
Takes salary cuts from their applicants upon employment.
Hires directly for their partners/clients.
No salary cuts upon employment as you will be hired directly to their clients.
"Both Agencies and Recruitment Firms DO NOT ask for a PROCESSING FEE upon arriving at their office, PLEASE BEWARE ABOUT THESE SCAMMERS AND TO PREVENT CONFUSING THEM AS AGENCIES AND RECRUITMENT FIRMS."