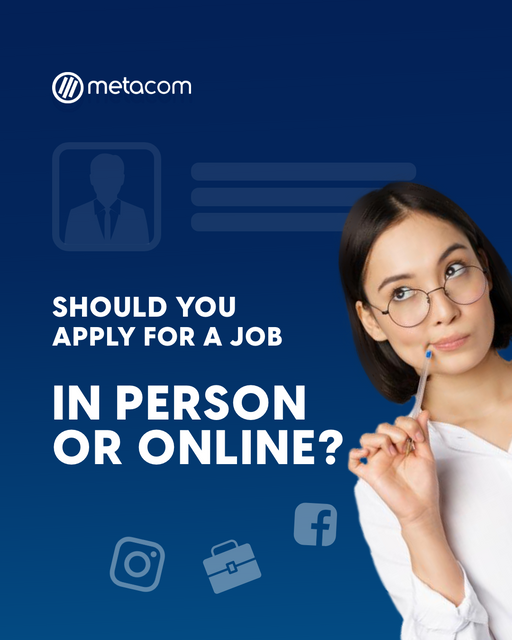 Technology has provided us with so much convenience t hat even finding a job can be done while sitting at home and sipping coffee. Finding, filling out, and submitting job applications online is becoming more common. In some cases, however, applying in person may be the better option because it gives you the chance to make a good first impression on the hiring manager. There are no hard and fast rules about whether you should apply for jobs in person or online, but there are some general guidelines you can follow to increase your chances of being hired. This article will help you choose the better option by comparing the advantages of applying for a job in person versus online.
Is it preferable to apply for jobs in person?
There are some advantages to applying in person rather than online. In-person applications take more time and effort, but they are more likely to result in an interview in some cases. The following are some of the benefits of applying for a job in person:
It allows you to make a great first impression
The opportunity to stand out from other applicants is the most significant advantage of an in-person application. It also proves initiative. By introducing yourself to a hiring manager in person, you will immediately distinguish yourself from candidates who fill out an application online.
It shows your competence
Hiring managers usually appreciate the effort required to deliver a resume or fill out a job application in person. Furthermore, applying in person allows you to demonstrate your professionalism. Dress appropriately for the role, and bring your resume. You can request the best time to visit by calling or emailing ahead of time. Show up early to prove punctuality, and ask to speak with a manager or HR representative. Use your limited time with a manager to ask a few informed questions about the company and position to stand out even more. This shows your eagerness for the job and willingness to join their team.
Can help speed up the process
Applying in person can sometimes result in immediate interviews. Managers on the job with a high turnover rate are frequently looking to fill positions on short notice in some cases. If you need a job right away, applying in person may be beneficial.
Is it better to apply for a job online?
Applying for work online can sometimes be a better option, especially when you are seeking long-term positions. It can also help you apply for multiple jobs without investing too much time and money. Here are the advantages of applying for a job online:
Helps you apply for more jobs
Applying for a job online can save you a lot of time compared to applying in person. The more applications you send to different companies, the more likely you are to get an interview. 
Allows you to access distant jobs
You may think about moving for work, family, or a variety of other reasons at different stages of your career. In such cases, traveling long distances to apply in person may be impractical. These remote jobs can now be applied for online.
A better option for applying to bigger companies
Large companies have larger hiring departments than small businesses. Such organizations sift through a large number of resumes in search of qualifications and experience that match their requirements, and they frequently lack the time to meet with candidates in person. Create a unique and well-written resume for each big company to which you apply.
Which is a better option?
In summary, applying for a job in person allows you to show your professionalism and charisma from the minute you arrive. This is highly helpful in industries with high turnover rates, such as hospitality, service, and food. Trying to apply in person also increases your chances of being successful if you meet a hiring manager, which is more likely in a small business.
Applying online, on the other hand, is far more efficient. In the time it takes to apply in person, you could probably fill out many applications online. Applying online also allows you to widen your search to include areas where you might consider relocating.
Bear in mind that these are not the only options available. After applying online, you could call and request to meet with a hiring manager. If you apply in person, you could also send the hiring manager a gratitude email with your resume to follow up after your interview. You also could call or email the human resources department to convey your interest in the job after applying in person or online.